This killer knows how to take down Buddy Lock: destroy his family.
The Buddy Lock series continues in The Holdouts, a breathtaking thriller of power, corruption and murder.
Dig deeper into The Holdouts…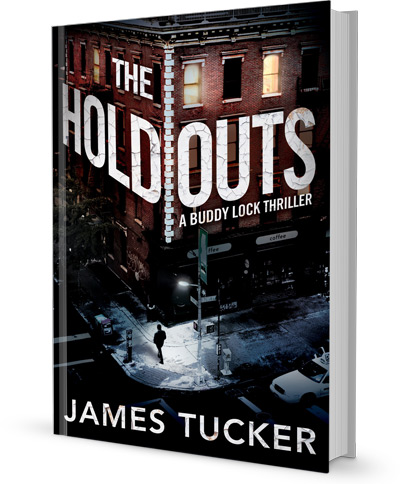 The Holdouts keeps you on the edge of your seat from the very first page to the nail-biting finale. Buddy Lock is a hero to root for.
—Marti Green, author of the #1 Amazon best-seller Unintended Consequences
The Holdouts has everything that you could want in a police thriller: a unique and compelling hero in NYPD homicide detective Buddy Lock, a mystery that unveils corruption among Manhattan's rich and powerful, and a twisty, violent ending. Tucker's story builds up a powerful momentum that will keep readers turning the pages late into the night. Highly recommended.
— Reece Hirsch, author of the Chris Bruen series
An addictive page-turner with nonstop action, The Holdouts deftly weaves a story of secrets, corruption, and the captivating allure of power. Running beneath the thrilling mystery is the thread of family—and the sacrifices needed to keep them safe. You're rooting for the compelling Buddy Lock all the way to the heart-pounding finale that has enough twists and turns to keep you guessing to the end.
— Brianna Labuskes, Amazon bestselling author of It Ends With Her

In The Holdouts, James Tucker crafts a story as complex as his characters. With nuanced attention to detail, unexpected twists and turns, and an unforgettable ending, Tucker's latest Buddy Lock thriller is a tour de force.
—Brian Andrews, WSJ bestselling coauthor of the TIER ONE series.

Read more about The Holdouts...